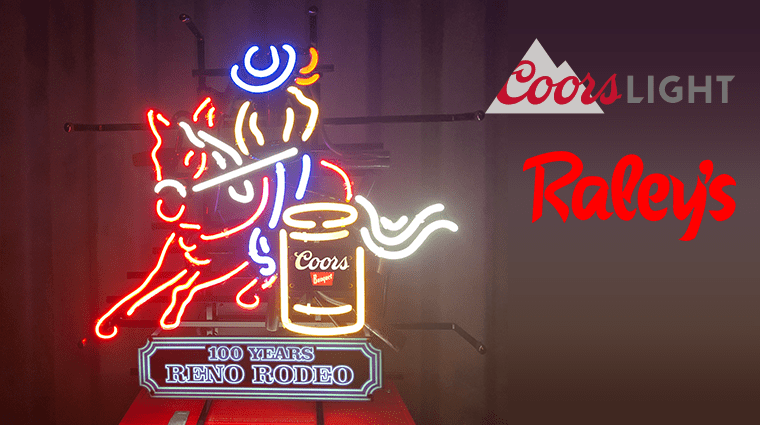 Win a Coors Reno Rodeo 100th Anniversary Neon Sign!
Ten Country @ 97.3, Coors and Raley's are celebrating the 100th anniversary of the Reno Rodeo with your chance to win a limited edition Coors Neon Sign!  Now thru June 29th, stop by your local Raley's Supermarket, pick up an official entry form at the Coors-Coors Light display, and get it to us!  We'll draw FOUR winners at random from all eligible entries on July 5th.  Complete Rules here and check out the Raley's store nearest to you below.
Take advantage of the Coors and Coors Light 20-pack specials at Raley's and enter to win a limited edition Coors Reno Rodeo Neon!  Celebration 100 years…with Coors, Coors Light, Raley's and Ten Country @ 97.3!
Raley's Locations:
701 Keystone Ave, Reno, NV 89503
1441 Mayberry Dr, Reno, NV 89509
3310 S McCarran Blvd, Reno, NV 89502
2895 N McCarran Blvd, Sparks, NV 89431
1630 Robb Dr, Reno, NV 89523
4788 Caughlin Pkwy, Reno, NV 89519
1901 Silverada Blvd, Reno, NV 89512
1075 N Hills Blvd, Reno, NV 89506
2389 Wingfield Hills Rd, Sparks, NV 89436
18144 Wedge Pkwy, Reno, NV 89511
930 Tahoe Blvd, Incline Village, NV 89451
Food Source Location:
4047 So. Virginia St., Reno NV, 89502