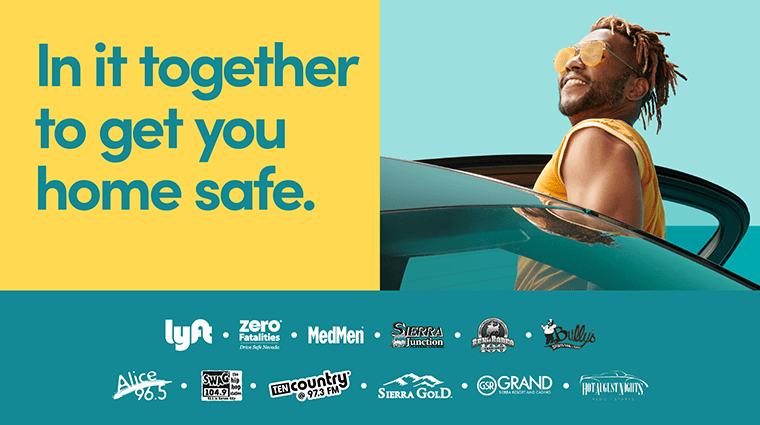 Lyft Pledges Up to $5,000 in Ride Credit to the Northern Nevada Coalition for Zero Fatalities this Memorial Day Weekend
Reno, NV (May X, 2019) – This Memorial Day Weekend, Lyft pledges $5,000 in ride credit to the Northern Nevada Coalition for Zero Fatalities to promote safe transportation options to the Northern Nevada community during the holiday weekend. This is a result of Zero Fatalities expanding their partnership with Lyft this year by teaming up with local businesses and organizations dedicated to eliminating impaired driving in Northern Nevada.
On Memorial Day Weekend, May 24-27, new and existing users can enter the code "NNCZFMD19" for $10 credit that can be redeemed by 500 different users.
"Memorial Day marks the beginning of the hundred deadliest days of the year," said Zero Fatalities representative Andrew Bennett. "We encourage Nevadans to celebrate responsibly and get a safe ride home. We are appreciative of Lyft for their partnership so that together we can attain the goal of zero fatalities on Nevada's roadways."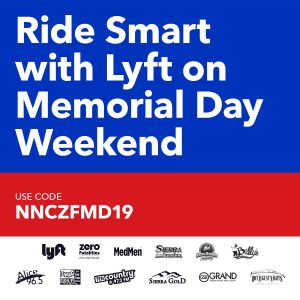 To join the DUI coalition or to find out more information, please email zerofatalities@kirvindoak.com
About Zero Fatalities Northern Nevada Coalition
Launched in 2019, the Northern Nevada Coalition for Zero Fatalities' year-long campaign is dedicated to eliminating impaired-related fatalities by increasing visibility and accessibility of smart ride alternatives, including Lyft and public transit. Comprised of community leaders, members include Lyft, Zero Fatalities, Grand Sierra Resort, Sierra Gold, Sierra Junction, Bully's Sports Bars, MedMen, Hot August Nights, Ten Country 97.3, Swag 104.9 and 93.5 Carson City, Alice 96.5 and Reno Rodeo.
About LYFT
Lyft was founded in 2012 by Logan Green and John Zimmer to improve people's lives with the world's best transportation and is available to 95 percent of the United States population as well as select cities in Canada. Lyft is committed to effecting positive change for our cities by offsetting carbon emissions from all rides, and by promoting transportation equity through shared rides, bikeshare systems, electric scooters, and public transit partnerships.