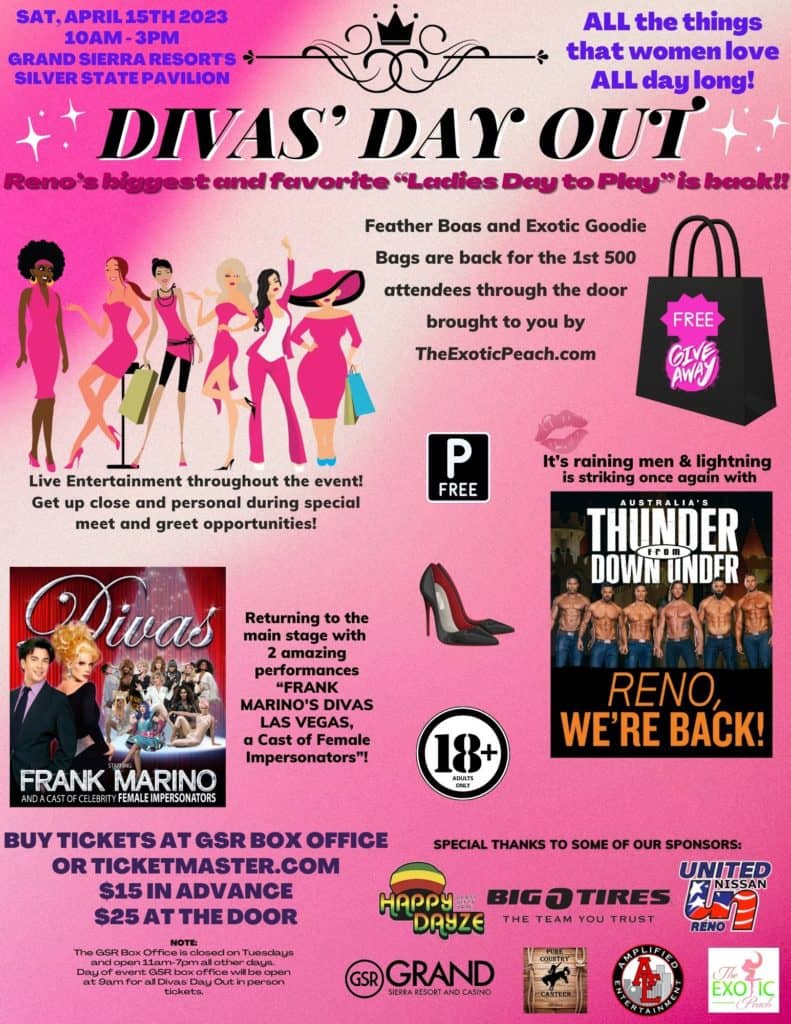 Reno Media Group is proud to present, once again, Divas' Day Out!
It is finally that time again to release your inner DIVA!

Do you want to see some skin, do you want to get up close with the best female impersonators around, do you want over the top giveaways, do you want full on entertainment ALL DAY on the main stage, do you want free parking, do you want feather boas and do you want some "goodies". Yes, that is right, the amazingly popular Exotic Goodie bags are back for the 1st 500 attendees through the door brought to you by TheExoticPeach.com. But don't worry…..if you don't get in on those boas or goodies bags you have a ton of chances for some giveaways worth thousands!
Get up close and personal during special meet and greet opportunities with all of our performers throughout the event!
Are you feeling ready?!?!
Grab your friends and get your tickets now!
Tickets are available! $15 in advance and $25 day of the event online or at GSR box office.
All Divas' Day Out Tickets can be purchased in person at the Grand Sierra Resort Box Office with no fees or online tickets, additional fees apply at
Or purchase tickets here: Ticketmaster
Special Thanks to some of Our Sponsors:
Karan's Happy Dayze Smoke Shop
United Nissan Reno
Exotic Peach (theexoticpeach.com)
Shop Tires & Auto Service at Mae Anne Ave, Reno, NV 89523 | Big O Tires
Shop Tires & Auto Service at OLD VIRGINIA RD, RENO, NV 89521 | Big O Tires
Pure Country Canteen
Amplified Entertainment
Grand Sierra Resort and Casino