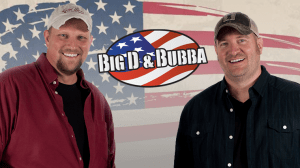 Big D & Bubba
Big D & Bubba have been a hit in Northern Nevada for a while and now Ten Country 97.3  is proud to have them call our radio station "home".
The guys met in 1996 and have been waking up Country Music fans up for 20+ years!   Wake up with Big D & Bubba every weekday morning from 4a to 9a and on Saturdays from 5a to 9a!
Email the guys at:
BIG D: bigdandbubba@hotmail.com
BUBBA: bubbaradio@hotmail.com
PATRICK: patrick@silverfishmedia.com
Call or Text Big D & Bubba at 800-667-8686 and check out their website here.