What's different from other country stations?
Listeners in Northern Nevada told us they wanted a country radio station that not only plays their favorite country music, but A LOT of it!  Talk is kept to a MINIMUM! Ten Country music is LOCALLY researched to reflect LOCAL tastes. We play today's top artists like Florida Georgia Line, Zac Brown, Jason Aldean, Blake Shelton, Keith Urban, Lady Antebellum, and Carrie Underwood! Ten Country 97.3 plays Ten Country Hit songs in a row – all day.
We also offer digital services combining radio broadcasting, website design, digital marketing, Search Engine Optimization (SEO), Search Engine Marketing (SEM), video, internet audio streaming, social media and assistance in client branding.  Learn how we can help you develop a media plan to help your business grow today.
Wake up with "Big D & Bubba"!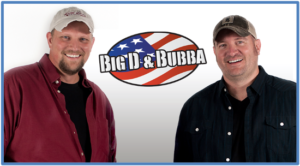 Live from Nashville, these nationally-known good ol' country guys will put a smile on your face.  Monday through Friday from 4a-9a enjoy Big D & Bubba and their crew!
Become the named sponsor of our Ten Country "Ten in a Row"!
"Another ten in a row… now… brought to you by                                  ."
Ten in a Row deliverables:
(4) Announcements EACH AFTERNOON Monday-Friday (between 3pm-6pm)
"Your Business" logo prominently featured on the Ten Country website home page as the official "Ten in a Row" sponsor!
Total Investment: $2,250 per month (six month commitment)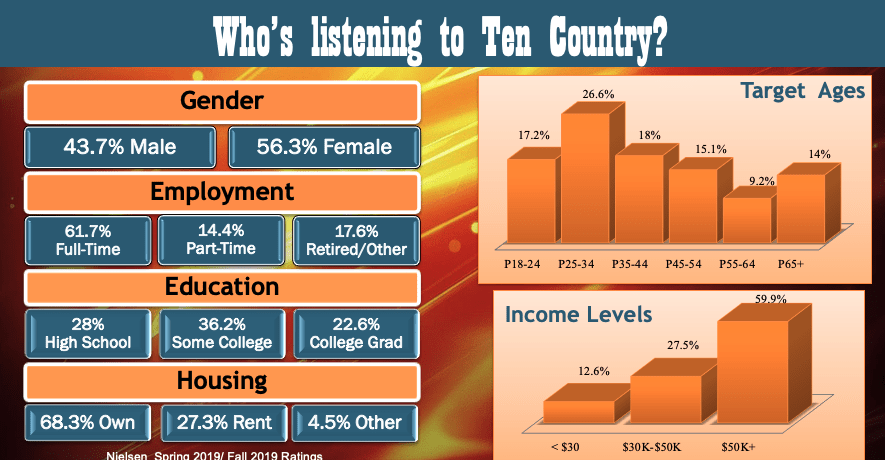 Coverage Map: