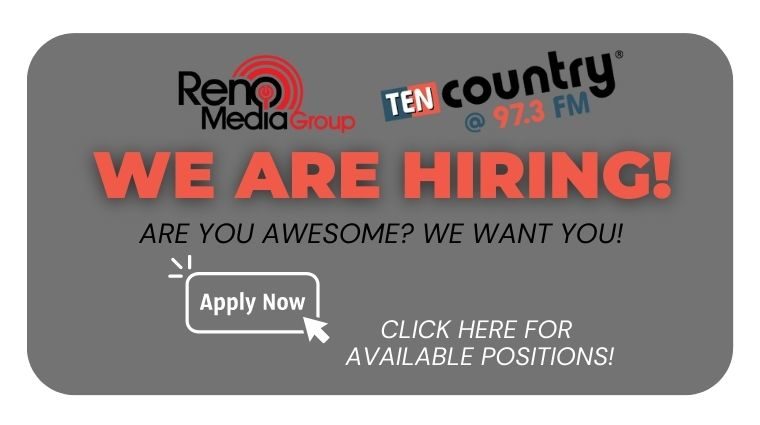 Join The Team
Being one of the leading marketing groups in Northern Nevada, Reno Media Group is always on the lookout for top talent to strengthen its ranks even further. Our job portfolios are diverse including opportunities to work in radio stations, on websites, social media networks and more.
We provide an inclusive and supportive work environment for all of our employees, enabling them to deliver to their fullest potential. If you consider yourself energetic, passionate, and committed to growing in your career, you might just be a great fit for Reno Media Group. Don't forget to check out our open positions!
Employment Opportunities
PROGRAM DIRECTOR
There are not a lot of radio stations that have the same PD for over 24 years. KRNO in Reno is one of them. Due to the passing of our friend and PD, Dan Fritz, we are now looking for our next programming leader. You will be joining an elite group of experienced programmers who have been with the Reno Media Group many years. If stability and resources to win are important, please keep reading. Your main focus will be programming and handling PM drive on legendary AC, KRNO (Sunny 106.9). Responsibilities will also include oversight of a few of our translator stations. Our new PD will have all the resources to keep KRNO on top of the ratings. What do we need from you? A successful track record in programming AC, a strong on-air presence, a collaborative thinker and an understanding of NexGen. If this position interests you, please apply with a resume and scoped aircheck to onairjobs1@gmail.com  Reno Media Group is an Equal Opportunity Employer.
RADIO SALES ACCOUNT EXECUTIVES 
Reno Media Group has multiple openings for Radio Sales Account Executives. A Radio Sales Account Executive is responsible for developing, closing and maintaining business accounts for radio stations and digital marketing channels. They generate revenue through selling various advertising tools including on-air promotions, radio advertising packages and sponsorships of programs, SEO, SEM, website development and social media marketing. Other duties include preparing media schedules, writing commercials, preparing proposals, and collecting payment.
For a radio sales account executive career, a bachelor's degree is desirable. Prior media sales experience is an advantage. Additionally, the applicant must also have great presentation skills, the ability to negotiate, attention to detail, be a great multi-tasker, love competition, and be honest and ethical.
If you have the experience and drive, we are seeking, send your resume to  employment@renomediagroup.com.  Reno Media Group is an Equal Opportunity Employer.