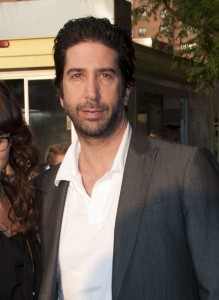 David Schwimmer plays Robert Kardashian in the upcoming "American Crime Story" miniseries "The People v. O.J. Simpson".   He died in 2003, so to get a little more insight, David talked to his ex-wife Kris Jenner for more than two hours on the phone.  He says he learned how important his faith was in his life, and how compassionate and generous he was.
He adds, "The producers of ['Keeping Up with the Kardashians'] had asked me if I wanted to talk to the daughters, too, but I didn't feel that was necessary.  And they wanted to do it on camera."  Shocking, right?
Selma Blair plays Kris, and she also talked to her.  But the producers of the miniseries were actually advising the actors NOT to talk to the people they were playing, because they didn't want it to affect their portrayals.
That was fine by Cuba Gooding Jr., who had no desire to talk to O.J. Simpson.  He said an incarcerated O.J. is not the same man he was at the time of the murders, so it wouldn't have helped him get a feel of who O.J. was then.
The miniseries premieres February 2nd on FX.  
By the way, the second season of the show will be about Hurricane Katrina and its aftermath.