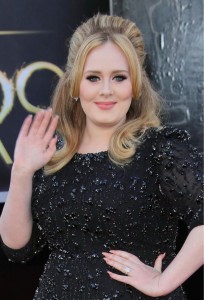 "Billboard" has released the final sales numbers for 2015, and "25" by Adele was the best-selling album of the year, with 8 million copies sold. 
"1989" by Taylor Swift was a distant second, with 3.1 million in sales.  But it came out in 2014, and was the top selling album of last year, after selling 3.7 million copies.  (But if you include digital "equivalent album units" as "Billboard" started doing in 2015, it would've been edged by the "Frozen" soundtrack.)
Here are Top 10 Best-Selling Albums of the Year, with their final sales numbers:
1.  "25", Adele, 8,008,000 copies
2.  "1989", Taylor Swift, 3,105,000 copies
3.  "Purpose", Justin Bieber, 2,225,000 copies 
4.  "X (Multiply)", Ed Sheeran, 2,206,000 copies 
5.  "Beauty Behind the Madness", The Weeknd, 2,045,000 copies 
6.  "If You're Reading This It's Too Late", Drake, 1,919,000 copies
7.  "Title", Meghan Trainor, 1,795,000 copies
8.  "In the Lonely Hour", Sam Smith, 1,741,000 copies 
9.  "Montevallo", Sam Hunt, 1,378,000 copies
10.  "Fetty Wap", Fetty Wap, 1,295,000 copies
Here are a few more sales stats from "Billboard":  Overall, U.S. album sales were UP by 15.2%, but that's only because they're now counting digital "equivalent album units."  That includes on-demand streaming, which was up 93%.
If you're only counting pure album sales, physical and digital, the numbers were down another 6% from last year.  And without Adele, they would've been down 9%.  Believe it or not, "25" represented 3.1% of all the album sales in the U.S.
Downloading is also on the decline, thanks to the rise of streaming.  Album downloads were down 3%, and this is the third straight year they dropped.  Individual download sales also fell by 12%.
For the 10th straight year, vinyl album sales were UP.  In 2015, 11.9 million vinyl LPs were sold.  That's up 30% compared to 9.2 million in 2014.  (You can find more information at Billboard.com, which includes the top selling digital songs.  "Uptown Funk" led the way in that category.)